New phone: N73
I treated myself to a new phone last weekend: A Nokia N73.



My old Sony-Ericsson had finally annoyed me enough so I took the plunge and bought myself a decent phone. Many of the reviews said that the N73 was buggy, very buggy and slow. It isn't. Well, at least the latest firmware shipped by O2 seems pretty good.

So far my only complaint is the alarm which doesn't have a repeat mode. Ideally, the alarm should

Sound even when the phone is switched off
Repeat daily or on workdays only
Have a snooze function (ideally configurable)
So far, I tried
HandyAlarm
,
Alarm Manager
,
NiceAlarm
and
BestAlarms
. So far, BestAlarms is the only one to satisfy my criteria but I'll try it for another few days before shelling out the €5 purchase price :-) I'm not the only reviewer
searching for the perfect Symbian alarm application
either.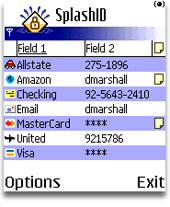 Also, for the past 5 years or so, I've kept all my passwords, login details, credit card numbers in a Palm & PC application called
SplashID
. I couldn't recommend this application enough, and fortunately there's a Symbian version too. Unfortunately, it doesn't sync with the PC application in the same way as the Palm version and it's pretty slow in operation. Luckily,
Handy Safe
will import a SplashID database (make sure you use the latest version of SplashID), sync seemlessly over Bluetooth and the on-phone user interface is quite nice. The downside is that the Handy Safe PC application is not as good as SplashID. Oh, and check out
the adwords listing for Handy Safe
to save 35%!